Rapid Holdings Procurement and Logistics Limited
We are looking for a reliable company to get the best offer of the solar equipment required for 25 mW Solar Power Plant equipment and this is to be installed in mine areas of Democratic Republic of Congo (DRC) and tenders in southern Sudan.
The clients from DRC have a budget of 800 kilograms of clean gold nuggets in exchange of this project and currently is in customs under a safe keeping company pending taxes but with all the necessary paper work to have it shipped to any part of the world.
We look forward to working with you as you send us the project quotation if you are interested.

Regards,

Peter Mugaru

Director of Purchases International Department

Manager of Rapid Holdings Procurement and Logistics Limited
Address: Plot 448 Ggaba Rd, PO Box 4578, Kampala, Uganda
Phone: +256 700665114

Fax: +256 700665114

Email: mugarupeter@rapidholdings.com, purchasesrapid@gmail.com



Antek Solar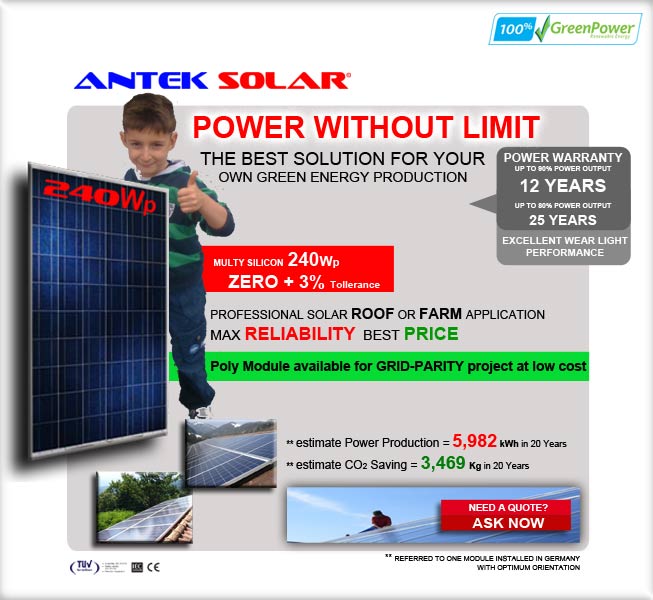 Shenzhen Chenyi Electronic Technology Co. Ltd.

Shenzhen Chenyi Electronic Technology Co. Ltd in Guangdong China is a leading and professional manufacturer of mobile power bank which is used to charge mobile phones/mp4 players/ipad etc. digital products. It is a popular digital product that appears after the spread of smartphones. It is convinent and powerful to charge electricity for mobile phones. It is sure to still be a hotsale product for many years.
Our products have been certified by CE, FCC. We have researched and developed more than 20 models for our power bank. We provide high quality products at competitive prices.
Address: 9 Floor, Youlian Building, Gushu Area

Ban'an District, Shenzhen City, Guangdong Province, China
Telephone: 0086-755-2320 7515 (10 line)